Instagram has returned invalid data.
Hand in Hand makes creatively designed children's clothing with acrylic gouache and watercolor paints along with a Japanese fabric and garment factory in line with the theme of tickling intellectual curiosity.
We think that children's clothes can play a bigger role for children other than just consumable items.
A wardrobe where you can share your way of life and ideas with your family.  ​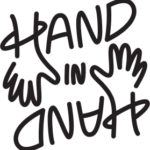 1. Give clothes like a new picture book
Art look that creates sparks communication in your life.
2. Protect Japanese garment factories
-We will continue to support those rare manufacturers with fair trade.
3. NO! For mass production and consumption of children's clothes
It is time for us to change our consciousness for the earth. Hand in Hand clothes are designed so that they can be worn for a long time beyond the season and the dirt is not noticeable. We ask parents to recycle or donate the clothes to children in need when they grow out of it.
4. Zero waste policy
When we make a product, we pick up the waste from the garment factory and reinvent it into a new project.